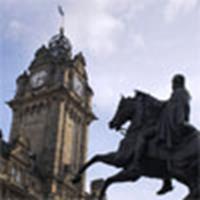 Balmoral Hotel
Hotel suite where Rowling finished 'Potter' available for booking
June 22, 2007 at 1:29 PM ET
Cheeser HPANA (via HP Fan Trips)

harry potter and the deathly hallows, harry potter book 7, harry potter podcast, harry potter fan discussion, hp fan trip, harry potter tours, harry potter scotland tour
---
The suite at Edinburgh's opulent Balmoral Hotel in which JK Rowling penned the final words of Harry Potter and the Deathly Hallows is being offered for booking

exclusively through HP Fan Trips™ the night of the book's release:
The Balmoral, known for its luxurious and stately presence in Scotland's capital city, discovered in January that the famous author had autographed and inscribed a marble bust of the Greek god Hermes in her suite with the phrase: "JK Rowling finished writing Harry Potter and the Deathly Hallows in this room on 11th Jan 2007." A spokesperson for Rowling and the hotel later confirmed its authenticity. (Hermes is also the name of character Percy Weasley's pet owl in the series.)
The 5-star Balmoral has refused to divulge the exact room number -- which was incorrectly reported in the media -- except for this special booking.
The package being offered by HP Fan Trips™ is for three nights: July 19, 20 and 21. Breakfast is included each day, and two copies of Harry Potter and the Deathly Hallows will be provided, along with special access to the exclusive HP Fan Trips™ release party at Waterstone's West End in Edinburgh. That event includes private entrance before midnight into the bookstore, special gifts and entertainment with magicians, musicians and more. An upgrade to the full Book 7 Release package with a Harry Potter-themed banquet, fan discussion of the series and additional activites is also available.
Interested patrons should immediately contact Beyond Boundaries Travel at (800) 487-1136 in the U.S. or (719) 471-0222.