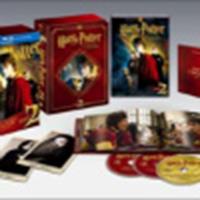 'Harry Potter' ultimate editions
'Harry Potter' ultimate edition DVD's announced
September 20, 2009 at 2:18 PM ET
Jeremy HPANA (via Various)

Harry Potter, Ultimate Edition, DVD, Blu-Ray, Warner Brothers
---
Following the report that Harry Potter extended editions were expected to be released on DVD and Blu-Ray, we can now confirm that this is indeed the case, with all eight films set to be released as "Ultimate Editions," and Sorcerer's Stone and Chamber of Secrets set for a release date of December 8.
According to a report

from Video Business:
The new Ultimate Editions of Harry Potter and the Sorcerer's Stone and Harry Potter and the Chamber of Secrets, priced at $39.92 on DVD and $49.99 on Blu-ray, will each include five hours of special features, theatrical and extended versions of the film, a 48-page photo book and other collectibles.
Among the special features will be screen tests, new featurettes with the cast and filmmakers and the first two one-hour installments of a new comprehensive documentary about the making of the movie franchise. Called Creating the World of Harry Potter, the eight-hour documentary will have one hour on each Ultimate Edition.
To see a list of what to expect from the first two editions, click here

.
The official trailer for the ultimate editions can be viewed, right here

.
Thanks to Ronald, Mugglenet

, LeakyNews

, and VideoBusiness

for mailing!