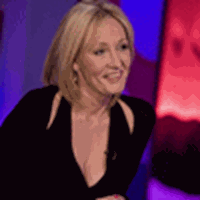 JK Rowling
Rowling both "euphoric and devastated" writing last chapter of 'Hallows'
July 5, 2007 at 11:24 PM ET
Geri Yahoo! News (via Daily Telegraph)

harry potter and the deathly hallows, hpdh, deathly hallows, jk rowling, jo rowling, jkr
---
Author JK Rowling is scheduled to appear on the BBC1's 'Friday Night with Jonathan Ross' on Friday night, July 6 and in a brief snippet

from the show she says that she was both "euphoric and devastated" when she wrote the last chapter of Harry Potter and the Deathly Hallows.
JK on the last book:
Finishing the book is a relief. I can't think of anyone who could know how I felt. Actually finishing it was the most remarkable feeling I've ever had... [I felt] euphoria, devastated, when I finished one chapter near the end I absolutely howled, it had been planned for so long.
I was in a hotel room on my own, sobbing my heart out. I downed half a bottle of champagne in one and went home with mascara all over my face. It was really tough.
If you happen to capture the show, please send our way.
You may remember that in February we let you know that Rowling wrote the last chapter of the book at Edinburgh's Balmoral Hotel and inscribed on a marble bust of Greek god Hermes:
JK Rowling finished writing Harry Potter and the Deathly Hallows in this room on 11th Jan 2007.
Also note that the suite at said hotel is being offered for booking exclusively through HP Fan Trips™ the night of the book's release.