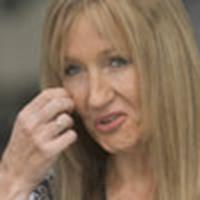 JK Rowling
More 'Prince' hints from JK Rowling
August 19, 2004 at 12:36 AM ET
Cheeser MuggleNet

half blood prince rumors, j.k. rowling, jk rowling
---
Two fans who attended Harry Potter author JK Rowling's reading at the Edinburgh International Book Festival have filed reports with various fan sites.
While the author was there to read from Harry Potter and the Order of the Phoenix, most fans were more curious about the upcoming sixth book, Harry Potter and the Half-Blood Prince

. (Veritaserum has three high-resolution photos of Rowling

from the event.)
MuggleNet has compiled two accounts

of meeting Rowling. In the first, attendee Joanna asks her some direct questions and gets some indirect answers, as is the author's style:
Firstly, I asked if there was a reason why Ginny Weasley is always associated with cats (she is described by Percy in COS as being a cat lover, is often described as being curled up like a cat and once made a noise 'like an angry cat') but J.K. answered 'No, there's not, although you are obviously a very careful reader.'
... what would happen to Kreacher and 12 Grimmauld Place now that Sirius has gone? Although she dodged this question well she did say that we will find that out very early on, right at the start of the next book.
... I then asked if it was still the headquarters of the Order [and] she just said 'You'll find that out too!'
The other report, from fan Ethan, talks more about the experience of actually meeting Jo:
I was really nervous, but she held her hand out and I shook it. I said, "Hi, your books are great," and she said, "Thanks" ... it was amazing, the whole thing! I was absolutely ecstatic beyond belief.
HarryPotterFanZone

also has a video

from Ethan that captures the atmosphere of the event.