Exclusive: Harry Potter book 6 title hoaxer speaks
July 1, 2004 at 1:51 AM ET
Cheeser HPANA

harry potter book 6 hoax, harry potter 6 hoax, harry potter and the pillar of storgé, pillar of storge
---
After making international headlines and enduring the wrath

of Harry Potter author JK Rowling herself, the person responsible for releasing

a false title -- Harry Potter and the Pillar of Storgé -- for the series' sixth book offers an apology and explanation in an interview with HPANA.
The real title of book 6 -- Harry Potter and the Half Blood Prince -- popped up on Rowling's official site

just days after the hoax (perhaps because of the hoax?). It has since been confirmed

by the author.
The prankster, a 19-year-old male student at the University of Florida, speaks:
Firstly I would like to offer two apologies. I owe an apology to all of the Harry Potter fans that I lied to; I never thought my hoax would go so far and I felt awful when some of you got so excited about knowing the title. I am sorry. I also would like to apologize to J.K. Rowling, as I did an awful thing by impersonating her. I consider her a literary genius.
In the end, the hoax was all in good fun. I thought the title was rather funny and had hoped that at least some people would get a good chuckle out of it.
And now, explained in full, here's what happened -- straight from the horse's mouth:
Do you have any official connection to JKR, Warner Bros., or the book publishers?
No, I have no connection to them whatsoever.
What made you think of doing this, and specifically, the timing of it?
I had recently finished a re-reading of Order of the Phoenix and it got me excited about the Harry Potter series again. As a result of that excitement, I stumbled upon JKR's website for the first time and was fascinated by the unopenable door. I also thought it was great that she was dispelling some of the rumors about the series. Somehow I put two and two together and the hoax clicked in my mind.
The timing of the event was never planned; it was simple dumb luck on my part that I released the hoax at the start of a weekend so that it [became] more effective.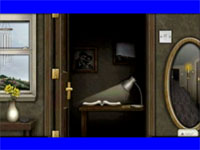 Screenshots from hoax video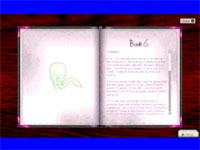 How did you do it?
A hobby of mine is computer graphics/video editing, so I knew I could produce a realistic video. I realized that this was exactly what I needed to make the hoax believable.
I used two programs: Adobe Photoshop

and Adobe After Effects

. In Photoshop I edited and manipulated pictures from JKR's site, and in After Effects I animated them into the finished video. I did not use [Macromedia] Flash at all. The blue bars (see image) at the bottom and top are a result of me changing the aspect ratio of the video without distorting it so that I could compress it into an MPEG file. I whipped the video up in about two hours.
As far as the "message" was concerned, I just tried to mimic JKR's style as much as possible. I came up with the title Pillar of Storgé, trying to formulate something with a hidden meaning that people would be able to figure out. It's an ugly title, but I'm quite fond of it.
What did you expect as a result of the hoax? Did you think it would receive the worldwide press it garnered?
I NEVER expected this much attention. I even wondered if anyone would believe it at all. My original goal of the hoax was that a rumor about the title would slowly creep through the Harry Potter community (much like the Green Flame Torch rumor), and that JKR would eventually dispel it as a myth (perhaps releasing some real information while doing so) on her site.
I never wanted the attention of all the Harry Potter fans; there was a clear and specific reason for the hoax and it involved the attention of only one woman. I was highly amused by the fervent guessing of the meaning of the title by eager fans and by the international press that it received.
Finally, a closing thought from the anonymous mountebank: "If I had not started the hoax, would we all know the real title to book 6 right now?" Read The Leaky Cauldron's analysis

of that question. In the meantime, consider what an astute reader over there observed: Rowling said on her site that "as a little bonus, and compensation for having been messed around by Mr. or Ms. Storgé, I shall tell you one thing without making you shift any bricks at all: the HBP [half blood prince] is neither Harry nor Voldemort."