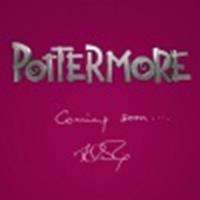 Pottermore
Pottermore: JK Rowling's next big thing
June 15, 2011 at 6:11 PM ET
Cheeser HPANA

pottermore, more potter, harry potter web site, jk rowling's next project
---
It's official.
After a frenzied few hours today with Harry Potter author JK Rowling's "Secret Street View" challenge, the name of her next project has been revealed: Pottermore.
But what is it?
This editor has seen a sneak preview of Pottermore

and it is breathtaking in scope, detail and sheer beauty.
Unfortunately that's all I'm allowed to say right now, but rest assured there will be more news soon and we'll bring it to you as it happens!