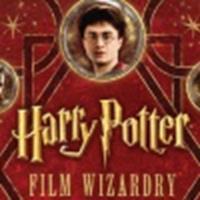 Harry Potter Film Wizardry
Review: 'Harry Potter Film Wizardry'
October 19, 2010 at 9:17 AM ET
Cheeser HPANA (via Amazon.com)

harry potter film wizardry, harry potter movie book, harry potter movie secrets
---
I generally don't gush about products, but this one is good enough to do just that.
Harry Potter Film Wizardry

is a masterfully entertaining and revealing look into the real "magic" behind the Harry Potter film franchise. It's literally bursting with insider behind-the-scenes info, stories and candid photos from the very people who created the films.
Not only is Wizardry informative in a way fans have been craving for years, it's also quite beautiful. Each page is gorgeously adorned with detail, just like the movies they describe.
"Everybody involved in these eight films knows that we have been part of something very special, and that there will never be another experience like this one," proclaims producer David Heyman in the introduction. He's right, of course, and while the people who made the movies were there for births, marriages, divorces and even deaths, fans have been along for the ride, hoping for a chance to sit in the front seat. This is finally it!
From tidbits like how Helena Bonham Carter perforated Matthew Lewis's eardrum with her magic wand in Order of the Phoenix, to grand designs like how the filmmakers created an entire Hogsmeade miniature village with intricately detailed micro-window displays the size of a £1 note, the book simply doesn't disappoint. It's the perfect mix of fact and -- as McGonagall would say -- "well-mannered frivolity."
On top of all that publisher Harper-Collins inserted over half a dozen prop replicas, like your very own sealed invitation to attend Hogwarts (addressed to Mr H Potter, The Cupboard under the Stairs, naturally), a Quidditch World Cup programme, and even a "real" Maurader's Map. There are also several fold-out pages, one of which contains the Black Family Tree Tapestry.
Harry Potter Film Wizardry, 160 pages, goes on sale today! Purchase it online at Amazon.com
or Amazon.co.uk
.
Here's the publisher's description:
Harry Potter Film Wizardry is the first book to delve into the fascinating and intriguing world of the enormously successful Harry Potter film franchise. This comprehensive volume features interviews with cast members Daniel Radcliffe (Harry Potter), Emma Watson (Hermione Granger), Rupert Grint (Ron Weasley), and Alan Rickman (Snape), as well as behind-the-scenes stories from David Heyman, the producer on all eight films, director David Yates, and art director Stuart Craig. Developed with the creative team behind the celebrated movie series, this book is the ultimate, insider's look at each of the Harry Potter films, including part one of The Deathly Hallows, opening in theaters November 19, 2010.
A veritable feast for the eyes, Harry Potter Film Wizardry features high-quality close-up pictures of the props, sets, costumes, and effects that bring depth to Harry's world, along with reproductions of production memos and notes from the films' producer and art director.