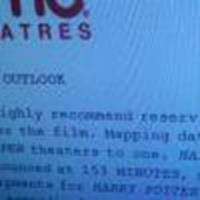 Internal memo
Update: 'Half-Blood Prince' to have 153-minute runtime?
May 24, 2009 at 8:20 AM ET
Cheeser HPANA

harry potter 6 runtime, harry potter and the half-blood prince, hbp, movie, two and a half hours
---
We've received word today that a foreign Warner Bros. distributor has stated the runtime for Harry Potter and the Half-Blood Prince to be 153 minutes (2 hours, 33 minutes).
While certainly not confirmed, this would put it in line with previous films in the series and producers' comments over the years about limiting each film to around that length.
It should also be noted that the Potter filmmakers were reportedly tweaking the final version of Order of the Phoenix just weeks before its release, but with Half-Blood Prince in the can for so long following its delay to theatres in 2008, it's doubtful further edits will be made.
UPDATE (5/25): Three additional sources have confirmed what we heard on Saturday: An internal memo

from AMC Theatres in the U.S. and the web site

of Pathé Cinemas in the Netherlands have both stated the runtime to be 153 minutes, and HarryPottersPage.com dug up a 2008 interview with producer David Heyman

in which he said the movie would be two and a half hours long. Thanks, Alexis and Michelle!