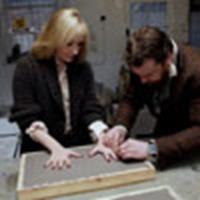 J.K. Rowling
JKR leaves her handprints in Edinburgh
February 12, 2009 at 7:22 AM ET
Geri HPANA (via Various)

j.K. Rowling, Harry Potter author, jkr, jo rowling
---
J.K. Rowling's is set to leave her handprints in Edinburgh today

. Ms. Rowling agreed to have her handprints displayed for posterity in honor of receiving the Edinburgh Award last year

.
Jo had this to say

about the honor:
I was delighted to receive the Edinburgh Award, as this city and its wonderful inhabitants have meant so much to me for the last 15 years.
It is particularly appropriate for a writer's hands to be represented, so I am deeply honoured to have my keyboard-chipped fingernails, not to mention my pen-induced friction callous, commemorated in the place where I produced Harry Potter.
Ms. Rowling is the second recipient of the Edinburgh Award, Ian Rankin won the award in 2007.