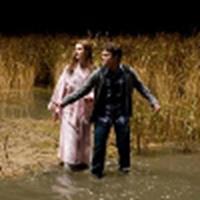 Harry and Ginny
Two more 'Half-Blood Prince' images surface online
October 30, 2008 at 7:56 PM ET
Jeremy HPANA (via SnitchSeeker)

Half-Blood Prince, Harry Potter,
---
Two more Half-Blood Prince images have surfaced online

today. The first shows Ron, Hermione, McGonagall, and several other Hogwarts staff and students standing in the Hogwarts courtyard, a different angle from a secne that appeared in the recent trailer. The second depicts Harry and Ginny standing in a swampy area near during the attack on the Burrow.
Thanks to SnitchSeeker

for the pictures.