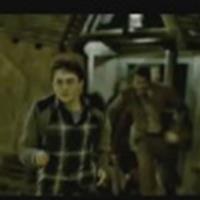 Attack on the Burrow
Update: New international teaser trailer for 'Half-Blood Prince' online
October 26, 2008 at 1:23 PM ET
Jeremy The Leaky Cauldron (via Trailer Addict)

harry potter and the Half-Blood Prince, Trailer, Harry Potter, Warner Bros., international
---
You've read it right, the international teaser trailer for Harry Potter and the Half-Blood Prince has emerged online without warning. It is 1 minute, 33 seconds in length and contains numerous new scenes from the film.
The trailer, released

on Trailer Addict today, features glimpses of Voldemort, Dumbledore's ring of fire, a bit of dialog in the cave, action at the Burrow and a particularly funny bit between Harry and Hermione!
(And we're aware the voiceover says "this year..." but the film was previously pushed back to July 17, 2009.)
UPDATE: The-Leaky-Cauldron has posted screencaps

from the trailer in their galleries. Thanks Leaky!
UPDATE II: You can now read a shot-by-shot report

of the trailer courtesy of MTV.com.
Watch it below: