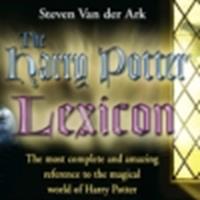 Harry Potter Lexicon
Update: Judge rules for Rowling in 'Lexicon' book case; all parties issue statements
September 8, 2008 at 1:54 PM ET
Cheeser HPANA (via Various)

rdr books, steve vander ark, harry potter lexicon, jk rowling, warner bros, wb, copyright infringement case
---
The Harry Potter Lexicon book must halt publication, a U.S. judge ordered today, ruling in favor of author JK Rowling and Warner Bros. in their case against RDR Books.
U.S. district court judge Robert Patterson said

that Rowling proved the publication of Steve Vander Ark's unofficial Potter companion book, based off his web site of the same name, would case irreparable harm to the author.
The judge also said

that RDR Books had "failed to establish an affirmative defense of fair use."
UPDATE: Here's the full text of the decision

. Interesting tidbit: The court has ordered RDR Books to pay statutory damages of $750 for each of the seven novels and two companion books, for a total of $6,750.
UPDATE II: Rowling has issued the following statement:
"I took no pleasure at all in bringing legal action and am delighted that this issue has been resolved favourably," said J.K. Rowling. "I went to court to uphold the right of authors everywhere to protect their own original work. The court has upheld that right."
"The proposed book took an enormous amount of my work and added virtually no original commentary of its own. Now the court has ordered that it must not be published."
"Many books have been published which offer original insights into the world of Harry Potter. The Lexicon just is not one of them."
UPDATE III: Warner Bros. has issued the following statement:
"We are obviously pleased with today's ruling by Judge Patterson supporting the position that the proposed lexicon book infringes on Ms. Rowling's rights. As a content company, it is imperative that we work vigorously on all fronts to protect the intellectual property rights of those who create the stories and characters, words, pictures and music that entertain and benefit the worldwide audience."
UPDATE IV: RDR Books has issued the following statement:
"We are encouraged by the fact the Court recognized that as a general matter authors do not have the right to stop the publication of reference guides and companion books about literary works. As for the Lexicon, we are obviously disappointed with the result, and RDR is considering all of its options."
UPDATE V: Steve Vander Ark told

the Grand Rapids Press in Michigan (near where he grew up):
"I've always been a fan of Harry Potter and of Rowling and my hope all along was that we'd find an amicable way to settle this. I'm disappointed, but this is the way it went and I don't hold any ill will at all. It was a question of law over a difference of opinion and, in a way, I'm glad that it's finally over."
UPDATE VI: The Center for Internet and Society at Stanford Law School, which helped RDR Books defend their case, wrote

on their web site:
Needless to say we're disappointed, as is our client, RDR Books. Careful and thoughtful as the decision is, we think it's wrong. So stay tuned to see where we go from here. In the meantime, thank Roger Rapoport, the Publisher of RDR Books for having the courage to stand up for free speech and fair use. He fought a fight that not many would have the stomach to fight, and we are proud to fight with him.
While you're at it, thank Steve Vander Ark. It's not easy to stand up to your hero, or bear the unjustified scorn of your fellow fans.
Finally, remember that avada kedavra -- the killing curse -- is not always fatal. One wizard survived it. Three times. And it was he who cast the spell (and won't be named here) that ultimately suffered for it. Maybe someday the Lexicon will be known as The Book That Lived.
Some choice highlights from the opinion:
There is no dispute that the Lexicon actually copied from Rowling's copyrighted works. Vander Ark openly admitted that he created and updated the content of the Lexicon by taking notes while reading the Harry Potter books and by using without authorization scanned, electronic copies of the Harry Potter novels and companion books.
[...]
Plaintiffs have shown that the Lexicon copies a sufficient quantity of the Harry Potter series to support finding a substantial similarity between the Lexicon and Rowling's novels.The Lexicon draws 450 manuscript pages worth of material primarily from the 4,100-page Harry Potter series.
The full opinion (PDF)

breaks down the decision into the following sections:
Copyright Infringement

Ownership
Copying
Derivative Work

Fair Use

Purpose and Character of the Use
Amount and Substantiality of the Use
Nature of the Copyrighted Work
Market Harm

Injunctive and Statutory Relief

Irreparable Injury
Inadequate Remedies at Law
Balance of Hardships
Public Interest
More as this story develops.