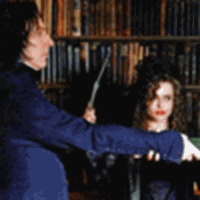 Snape & Bellatrix Lestrange
Update: 'EW' includes 'Half-Blood Prince' in '20 Fall Movies We Can't Wait to See' list
August 14, 2008 at 1:46 PM ET
Geri HPANA (via Entertainment Weekly)

harry potter and the half-blood prince movie, half-blood prince movie, hbp movie
---
With the fall fast approaching Entertainment Weekly have published

their '20 Fall Movies We Can't Wait to See' and have included the Harry Potter and the Half-Blood Prince movie.
The Hogwarts crew is back to administer our yearly Potter fix. This time, along with the usual ghouls and monsters, Harry & Co. have to deal with a particularly devious foe: hormones. We always thought 'horcrux' sounded dirty.
To see the release dates for the movie you can view

the official Harry Potter site.
UPDATE: Unfortunately, Half-Blood Prince has been pushed back to summer 2009. Apparently nobody thought to inform

EW, a Time Warner-owned sister company to Warner Bros., about the change in advance.
UPDATE II: You can now view scans of Harry Potter edition of the magazine here

, thanks again Arthur.
UPDATE III: Thanks to MuggleNet you can see scans

of the full article. You can see the original article here

on the EW web site.