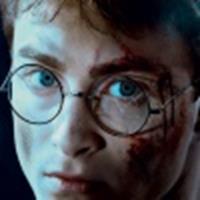 Dirty Harry
First official teaser reports from 'Half-Blood Prince' surface, new photo of Harry online
July 2, 2008 at 11:15 PM ET
Cheeser HPANA (via Various)

harry potter and the half-blood prince, harry potter 6, harry potter movie 6, harry potter sixth movie
---
As the summer movie season start to sizzle, publicity for this winter's Harry Potter and the Half-Blood Prince is getting a head start, with new reports from both Empire Magazine and USA Today surfacing online.
First, from Empire Magazine

, a few pictures and a preview of their report:
Dark times lie ahead for everybody's favourite bespectacled boy wizard as he enters his penultimate year at Hogwarts. Having dealt with a tragic loss, a repeatedly resurrected nemesis and the awkward onset of puberty, Harry Potter's six[th] big-screen outing finds him entering into a new and fateful stage of his life. We talk to cast and crew about making magic, floating corpses and approaching the saga's end.
USA Today has also published their first teaser report

about the film:
Harry, now 16, is suspicious of Malfoy, and he works with Dumbledore to retrieve memories pertaining to the evil Lord Voldemort. But, being a teen as well as a wizard, he is drawn to Ginny Weasley (Bonnie Wright), the younger sister of Ron (Rupert Grint).
Do Harry and Ginny share a magical snog?
"They're about to kiss," director David Yates says. "Then the bloody Death Eaters turn up and cause all sorts of anarchy."
UPDATE: USA Today has added new photos to their report!