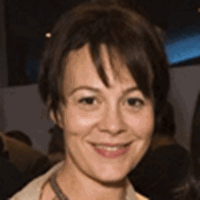 Helen McCrory
Helen McCrory to play Narcissa Malfoy in 'HBP'
November 9, 2007 at 9:14 AM ET
Geri The Leaky Cauldron (via CBBC Newsround)

helen mccrory, harry potter and the half-blood prince movie, half-blood prince movie, hbp movie
---
With the Harry Potter and the Half-Blood Prince currently in production in the UK, news comes from CBBC Newsround that actress Helen McCrory

will portray

Narcissa Malfoy in the sixth movie.
You may remember that Ms. McCrory was originally slated to play Bellatrix Lestrange in the fifth movie, Order of the Phoenix, but had to withdraw

from filming due to her pregnancy.
Also expect an announcement on who will play young Tom Riddle and Lavender Brown soon.