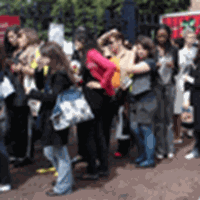 Lavender Brown hopefuls
Nearly 7,000 turn out for Lavender Brown casting call in London
July 1, 2007 at 8:38 PM ET
Geri Veritaserum

harry potter and the half-blood prince movie, half-blood prince movie, hbp movie
---
A few weeks ago we let you know that Warner Bros. would be having a casting call for Lavender Brown, a new character who Ron has a 'relationship' with in Harry Potter and the Half-Blood Prince.
The casting call happened today at Earls Court Exhibition Centre in London and nearly 7,000 hopefuls attended and according to Matt over at VTM:
After waiting for hours in line outside, the girls were seen by two Harry Potter casting directors in groups of 30. They said their name, age, and an interesting fact about themselves while holding up a large whiteboard with their name written on it. Some groups were dismissed entirely, while one or two girls in other groups were asked to proceed to the next round.
At the next round, the girls read from a scene with Hermione, Madam Pomfrey, and Lavender (presumably after Ron's near-death experience in Slughorn's office) from the Half-Blood Prince script for about a minute. There were no further rounds at today's auditions. Those few girls who will make it to the third round of call backs will find out within the next two to three days.
You can see pictures from the event here

. Thanks Matt.
Harry Potter and the Half-Blood Prince starts filming in September.