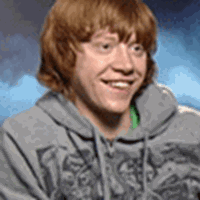 Rupert Grint
Rupert to help with casting call for Lavender Brown
June 25, 2007 at 9:49 PM ET
Geri Yahoo! News (via MTV Music Television)

harry potter and the order of the phoenix movie, order of the phoenix movie, ootp movie, rupert grint, david yates, harry potter and the half-blood prince movie, hbp movie, half-blood prince movie
---
Last week we let you know that Warner Bros. will be doing a casting call

soon for characters for the next movie. While doing publicity this weekend for Harry Potter and the Order of the Phoenix director David Yates let slip

as to how he is going to have Rupert Grint help out in casting Lavender Brown, who Ron has a 'relationship' with in Harry Potter and the Half-Blood Prince.
Yates on letting Rupert help with casting of Lavender Brown:
You know what I'm going to do? I never did this before, but I'm going to get Rupert together with the top five Lavenders, get him to come and read with them and snog with them. It's a chemical thing, and you want to feel that chemistry between them. That will help me decide.
Rupert's reply when told:
Really? Oh, wow, I didn't realize that. That's going to be interesting. It's going to be embarrassing.
Filming is scheduled to start for Half-Blood Prince in September.