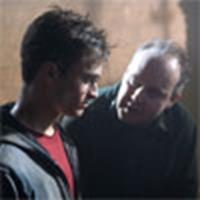 Radcliffe & Yates
Visiting the set of 'Harry Potter' (part 1)
May 22, 2007 at 2:48 PM ET
Cheeser HPANA

harry potter and the order of the phoenix, harry potter set, leavesden studios, harry potter movie
---
Making a Harry Potter movie is unlike most other films. Meticulous attention to detail is paramount, even when viewers may not see it all in the final product. This is what ran through my mind as I walked around in awe on the set of Harry Potter and the Order of the Phoenix.
Being the first movie set I'd ever visited, everything jumped out at me -- the textures, details, even the mood of places I'd become so comfortable seeing in my mind and on the screen; brand new places that would become additions to the fandom's collective imagination when the film was released; and old, dilapidated set pieces and props banished to the dusty corridors of Leavesden Studios, or worse, left outside to die by sun and rain. After an entire day living and breathing in Harry Potter's universe, I came to an odd realization: it is simultaneously vivid and dull, detailed and fuzzy, awesome but normal.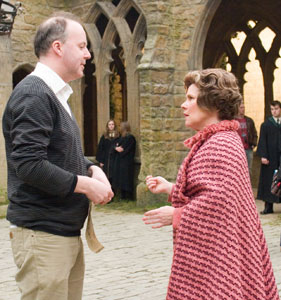 David Yates with Imelda Staunton
I'll explain.
Imagine reading some thousands of pages of fiction, colorfully imagining its complex cosmos in your head, filling in the gaps with your own creativity. I'm sure many fans can remember what the Harry Potter books looked like in their imagination before the first film turned it into a visual, semi-tangible reality eight years ago. What the characters looked like, how they sounded, what the Hogwarts Express might have felt like riding as it rocketed towards Hogwarts, the Great Hall and the Forbidden Forest.
Now suspend all of that vibrant imagery and realize you have to place trust of the whole of creation in the hands of filmmakers who will essentially make their own visions the de facto standard. After seeing the first movie (and the others that followed), how difficult is it now to picture Harry Potter as anyone else but Daniel Radcliffe? What about Dumbledore and Michael Gambon (or Richard Harris for the puritans)? Hermione Granger, homely and book smart, portrayed by the increasingly beautiful Emma Watson?
Yet, with the help of creator JK Rowling, moviemakers David Heyman and Chris Columbus managed to oversee the creation of something not far from what millions of fans had already dreamed up in their minds. Alfonso Cuarón and Mike Newell took a shot at it, and under watchful eye, also stayed true to the original vision.
Now entrusted to "3D" (the three d's: producers David Heyman and David Barron, and director David Yates), it quickly became clear as I was led through the hallowed halls of the studio that the ship was still sailing smoothly, and that everyone involved truly cared about the sanctity of their responsibility. (That's even more apparent now that we know Yates will be returning to direct Half-Blood Prince. The actors all said they loved working with him.)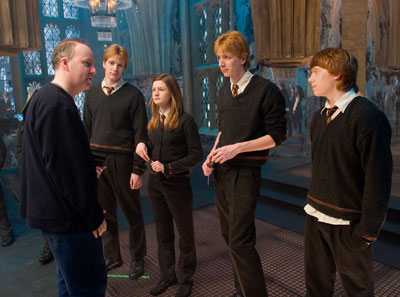 David Yates with the Weasley siblings
Walking around Leavesden was... let's say, trippy. It reminded me of a giant Home Depot store, with its industrial lighting, high unfinished ceilings and... (turning a corner)... Oh my god! It's 12 Grimmauld Place. That's pretty much what happened, time and again. One minute we were walking in a hallway (which has a posted speed limit of 5mph -- no joke!), the next we had stepped through a door and right into the Great Hall, or outside to an incredible replica of Privet Drive complete with pavement, lamp posts and landscaped lawns.
It was, in the parlance of the fandom, "squeefully" exciting. So, what was I on about, dull and normal? As the day wore on, and as we watched the ninth or tenth take of a scene, it occurred to me the whole thing was normal, and at times maybe a bit dull for those involved. People come to work every day to a place many fans can only dream about visiting. Most of them put in long, tedious hours (I was there just one day and was truly "knackered" by the end).
Still, you will no doubt find me elbowing the person next to me every time we watch Harry Potter and the Order of the Phoenix in the theatre or on DVD, a little too excitedly remarking, "I was right there!" or "I watched them film that scene!" Just because I now know how the trick was done doesn't mean it's not magic.
Stay tuned as we approach the film's release on July 13. Coming soon is a more detailed look at the set, and interviews with two of the three D's (Heyman and Barron), production designer Stuart Craig, Daniel Radcliffe, Emma Watson, Rupert Grint, Matthew Lewis and James and Oliver Phelps. I also get left behind in the Great Hall and realize how frighteningly large Leavesden is as I find my way back to the group!
UPDATE: You can read DanRadcliffe.co.uk's teaser report

(Page was with me and Matthew from Veritaserum for the day of our visit). The Leaky Cauldron and MuggleNet visited the set later and have also posted a preview

of their report (via podcast).