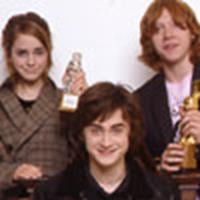 Emma, Dan and Rupert
Report: Daniel Radcliffe signed for final two 'Potter' films
March 2, 2007 at 6:34 AM ET
Cheeser HPANA (via DanRadcliffe.co.uk)

daniel radclifre, dan radcliffe
---
A few reports

circulating around say Daniel Radcliffe has signed definitive deals to appear in the final two Harry Potter films. Financial terms were not divulged, but Radcliffe is currently ranked #2

on Forbes' Young Hollywood Top Earners list.
DanRadcliffe.co.uk

has received confirmation from Dan's publicist that he will in fact be returning to finish out the series.
Editor's note: Emma Watson told HPANA in September that she was looking for other work but would not rule out or specifically confirm her ongoing role as Hermione Granger. Rupert Grint (Ron Weasley) told us he wants to finish the series as well.