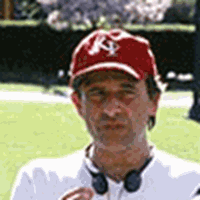 Michael Hoffman
Rumor: Michael Hoffman to direct HBP?
November 3, 2006 at 9:35 AM ET
Geri The Leaky Cauldron (via Dark Horizons)

harry potter and the half-blood prince movie, half-blood prince movie, micahel hoffman
---
Last month we mentioned a rumor that director David Yates had been asked to return to the Harry Potter franchise.
A new rumor has now surfaced

online stating that American director Michael Hoffman

will be directing Harry Potter and the Half-Blood Prince. Mr. Hoffman has directed Soapdish, One Fine Day and A Midsummer Night's Dream.
An announcement will be made by Christmas, so for now, all we can do is treat this new information as a rumor and wait to hear the official news.
UPDATE: Both of these rumors have been debunked by Warner Bros.