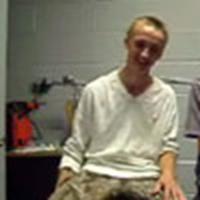 Tom Felton
Tom Felton will be back for 'HBP' & more
August 25, 2006 at 5:28 PM ET
Geri The Leaky Cauldron

harry potter and the goblet of fire movie, harry potter and the order of the phoenix movie, harry potter and the half-blood prince movie, tom felton
---
Last week Tom Felton from the Harry Potter movies participate

in the 2006 Junior World Carp Tournament in New York. In a video interview Tom mentions that current filming is "going very well" and that he "is looking forward to doing" Half-Blood Prince, which is a "penciled-in contract, it's not set in stone." Tom also discusses his scenes, or lack of, in Goblet of Fire.
In the second interview Tom and his brother Chris talk about their participation in the fishing tournament.
You can go download both interviews here

(WMV).