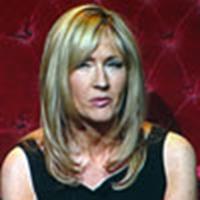 JK Rowling
Dumbledore 'definitely' dead, says Rowling
August 2, 2006 at 10:59 PM ET
Cheeser HPANA

harry potter book 7, dumbledore dead, harry potter 7, jk rowling
---
Author JK Rowling explicitly clarified tonight on her final appearance at Radio City Music Hall in New York City that Dumbledore is "definitely" dead.
» UPDATE: Transcripts of both evenings are now available.
She, along with Stephen King and John Irving, hosted another 6,000 people as they read from their books to raise money for charity. Rowling surprised fans with several tantalizing tidbits about the finale of her popular Harry Potter series.
While the authors all read from the same passages of their books as last night, their introductions were handled by different surprise celebrities. Actor-director Tim Robbins (who starred in The Shawshank Redemption) introduced King and Stanley Tucci welcomed Irving.
Rowling was brought on stage (again to standing ovation) by Kathy Bates, who proclaimed that the author took kids to places "Google does not go," describing the effect Rowling's books have had in shaping an entire generation of digital-age kids. At first fearful of the prospect of seeing the Potter books be made into the very digital creations they were meant to draw children away from (at the same time ruining imagination with special effects), Bates said fans "faithfully returned to the books" after seeing their incarnations light up the silver screen, and that Rowling had created "readers for life."
One audience member greeted Jo by yelling "Don't kill Harry," to which Jo responded: "Oh, no pressure then."
Tonight's audience was treated with much more informative and revealing answers than yesterday. Here are a few highlights (again, paraphrased):
If you could bring one of your characters to life -- other than Harry -- who would it be? Hagrid. We all want a Hagrid in our lives.
(Question about Aunt Petunia's potential to love Harry): I will say this... There's a little more to Aunt Petunia than meets the eye.
(Question about upcoming deaths): You shouldn't expect Dumbledore to pull a Gandalf. I need to be more explicit: Dumbledore is definitely dead. I know there's an entire site out there called DumbledoreIsNotDead.com, and I'm sorry they're not going to like this answer.
If you could host five of your own characters for dinner, who would they be? Harry, Ron, and Hermione... [Rowling pauses; thinks about a different character who's dead but does not say his/her name. King interjects: "they could be dead"]. Dumbledore.... [another pause]. Hagrid.
Rowling later revealed that while she thought she had settled on a title for book 7, a new one occurred to her in the shower this afternoon. She declined to elaborate.
She also suggested there were to be plot twists in book 7 that she didn't think anyone has already or could possibly guess about.
Stephen King, reponding to a question about what he is afraid of, said: "When I picked up the Harry Potter books, I was surprised at the depth of the deatheaters." To which Rowling replied tauntingly: "I scared Stephen King."
You can view our exclusive photos here

taken at the event.