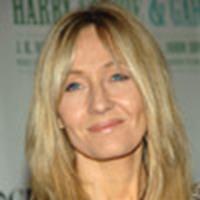 JK Rowling
Rowling partially 'relieved' to be at the end
August 1, 2006 at 12:53 PM ET
Geri HPANA (via Various)

jk rowling, jo rowling, jkr, stephen king, john irving, harry potter 7, harry potter
---
Earlier this morning, Harry Potter author JK Rowling attended

a press conference ahead of her charity reading with Stephen King and John Irving. At the press conference Ms. Rowling commented that she will have to go through a bereavement process when finished writing the last book in the series.
On the one hand, I am going to feel sad. Harry's been an enormous part of my life and it's been a turbulent phase of my life and he was always the constant.
So there will be a sense of bereavement.
But there will also be a sense of liberation because there are pressures involved in writing something as popular.
Wonderful though it's been, I think that there will also be a certain freedom in escaping that particular part of writing Harry Potter.
When asked about the two deaths that she previously mentioned, Ms. Rowling said:
I guess some people will loathe it, some people will love it.
You can now see pictures here

from the event.
Meanwhile, John Irving and Stephen King urged

Ms. Rowling not to kill of Harry off in the last installment, but Rowling made no promises.
UPDATE: Veritaserum has posted the full audio of the press conference.
UPDATE II: Video of the press conference can be seen here

.