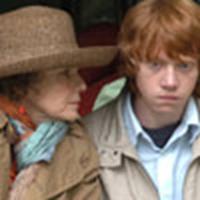 Walters and Grint
U.S. to take 'Driving Lessons' October 13
July 18, 2006 at 3:36 PM ET
Cheeser Harry Potter Fan Zone (via Sony Pictures Classics)

rupert grint, julie walters, driving lessons
---
As was reported earlier, audiences in parts of the U.S. will get to see Driving Lessons on October 13, 2006. Now Sony Pictures Classics's web site

has been updated with a synopsis, photos and other information.
The film, which already debuted at the Tribeca Film Festival in New York, features Harry Potter stars Rupert Grint and Julie Walters.
Here's the studio's synopsis (plot spoiler warning):
This rites of passage comedy introduces a shy and downtrodden Ben (RUPERT GRINT) with yet another dreary school holiday coming around. Seventeen years of living in an absurdly conservative and traditional household with his highly-strung and overbearing mother (LAURA LINNEY) and quiet, mild mannered vicar father have taken its toll on young Ben. While the other kids are out having fun, Ben spends these precious few weeks attending bible classes, having driving lessons with his mother and helping out at a local old people's home.
However, Ben's world is turned upside down when he's employed by an eccentric retired actress Evie (JULIE WALTERS). Vulgar, dignified and childish all at once, she certainly is not the kind of person Ben expected when searching through the job listings in the stuffy parish magazine, "Hello Jesus". Evie enters Ben's life with a cataclysmic force, whisking him away on a series of adventures from camping, to performing Shakespeare in the garden, to attending the Edinburgh festival — where he finally meets a girl much nearer his own age.
Evie's unconventional and often downright bizarre behavior challenges Ben's beliefs, and forces him to confront the very idea of who he wants to be. Then, when it seems that his new-found freedom is about to be taken away, Ben has to suddenly choose; should he continue to conform, or break out and live his life as his own man?
Some high-quality publicity photos are also available: