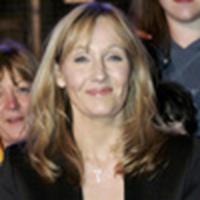 JK Rowling
'Harry won't die' says literature expert
July 18, 2006 at 9:25 AM ET
Geri Yahoo! News (via Newswise)

jk rowling, jo rowling, jkr, book 7
---
A few weeks ago Harry Potter author JK Rowling appeared on the Richard & Judy show and announced to the world that two more characters have died than she originally planned in the last book. Fans have been grappling with who is going to die for weeks, and now James Krasner, professor of English and British Victorian literature at the University of New Hampshire insists

that Harry will not be killed off in the last book.
According to Prof. Krasner:
There's no way Harry will die. Harry won't die largely because these are comic stories, like Dickens' novels, in which good has to win.
Whenever an author's books become very popular in his or her lifetime, as is the case with Rowling, a tug of war starts between the author and the fans about who the characters really belong to. Rowling, like Conan Doyle (creator of Sherlock Holmes), is trying to assert her control. She's reminding us that Harry is her character, not ours; she can kill him if she wants to. Doyle actually did kill off Sherlock Holmes, but Rowling won't go that far because she cares about Harry. Conan Doyle was really sick of Holmes.
Krasner also points out:
Rowling caused a media sensation when she said a "major character" would die in Harry Potter and the Order of the Phoenix. Rumors targeted Harry's best friend, Ron Weasley, but in the end, it was it was Sirius Black, who Krasner says "was an important supporting character, but not really a major character like Ron."
Krasner's thoughts on who will die in the last book:
Lord Voldemort has to die. And Snape, who is really fighting for good despite all appearances, will likely die. Neville Longbottom is really the chosen one, so I suspect he'll die.
UPDATE: So far, most of you agree with him. In our ongoing death poll (now with over 20,000 responses), 60% say Harry will survive the series.