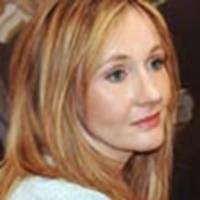 JK Rowling
Rowling on Forbes Celebrity 100 list
June 15, 2006 at 6:45 PM ET
Geri HPANA (via Forbes.com)

jk rowling, jo rowling, jkr
---
Once again Harry Potter author JK Rowling, who is currently working on the last book in the series, has been added to Forbes magazine Celebrity 100 List

. This time around Ms. Rowling enters the list at number 19, previously

she had been ranked at the 22nd, 15th and 6th spots.
According to the article

:
One of the few billionaires on our list, J.K. Rowling is preparing to close the book on her Harry Potter series. The next installment, the seventh in the series, is rumored to be her last, although she'll continue to write and will likely explore other parts of the Potter milieu. Worldwide sales of the Potter books have topped 300 million copies worldwide. The Goblet of Fire was last year's highest-grossing film, with a worldwide box office take of $892 million.
The top 10 celebrities on the list are Tom Cruise, The Rolling Stones, Oprah Winfrey, U2, Tiger Woods, Steven Spielberg, Howard Stern, 50 Cent, the cast of The Sopranos and Dan Brown.