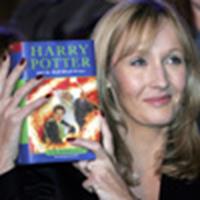 JK Rowling
JKR voted 'Greatest Living British Writer'
June 7, 2006 at 5:29 PM ET
Geri HPANA (via WGMS)

jk rowling, jo rowling, jkr
---
Previously

we mentioned that Harry Potter author JK Rowling had been nominated in Book magazine's Greatest Living British Writer poll. The polls were closed on April 30th and Ms. Rowling received

three times as many votes as the second-placed author, Terry Pratchett.
Christine Kidney, editor of The Book Magazine

, said:
Our survey provides a fascinating insight into what the British public thinks makes a 'great' writer. It shows how a writer can connect with us, as if we were the only reader in the world, and it's why books prove to be such enduringly popular objects.
The top 10 authors were:
1. JK Rowling
2. Terry Pratchett
3. Ian McEwan
4. Salman Rushdie
5. Kazuo Ishiguro
6. Philip Pullman
7. Harold Pinter
8. Nick Hornby
9. AS Byatt
10. Jonathan Coe and John Le Carre