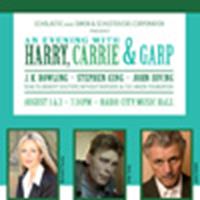 Rowling to attend charity reading
Rowling updates site with news on charity reading & more
May 10, 2006 at 7:24 AM ET
Geri HPANA (via JKRowling.com)

jk rowling, jo rowling, jkr, stephen king, john irving
---
Last night we told you that Harry Potter author JK Rowling would be visiting

New York this coming August to participate in a charity reading with Stephen King and John Irving. Jo has updated her site with additional information on obtaining tickets.
According to the news on her site

:
Tickets ranging from $12.50 to $100 will be available through Ticketmaster from May 12, 2006 at 10 a.m. (which is 3 p.m. in the UK).
Telephone numbers:
212-307-7171 (New York City)
212-307-1000 (MSG/RCMH hotline)
201-507-8900 (NJ)
845-454-3388 (Westchester)
631-888-9000 (Long Island)
203-368-1000 (Connecticut)
(Limit 8 tickets per purchase)
Pairs of prime orchestra seats will also be available via a Ticketmaster auction online. A limited number of "Family Packages" which will include 4 premium orchestra seats and a set of three signed books - one from each author - will also be on sale at the time for $1,000. Anyone who purchases a ticket will have the opportunity to submit a question for the authors via email.
Rowling has also updated her Rumours

section with news on the W.O.M.B.A.T. test we all took recently. Also the Rubbish Bin

has been updated with her answer to critics about her last post on thin girls and lastly the F.A.Q.

section in which she answers 'Is the plural of 'Horcrux' 'Horcri?'. With all this news, Jo also updated her diary

to let us know of all the people who actually sent her paper and the trouble that she had with some 'house-elf.' Thanks Toni.
UPDATE: The event will take place over two evenings, August 1st and 2nd at 7:30 pm with readings by all authors. You can read more from the just released press release

. Additional information is also available on the Simon & Schuster web site

as well as Scholastic's web site

.