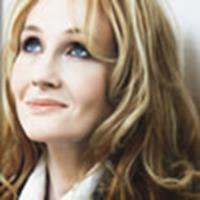 J.K. Rowling
J.K. Rowling coming to New York for charity reading
May 9, 2006 at 7:44 PM ET
Geri Yahoo! News (via New York Times)

jk rowling, jo rowling, jkr, haven foundation, stephen king, john irving
---
For the first time in six years Harry Potter fans will have a chance to see and hear author JK Rowling as she will be coming to New York in August. Ms. Rowling will participate

in a charity reading for Stephen King's recently created charity, the Haven Foundation

, with Stephen King

and John Irving.
Mr. King's charity Haven Foundation helps performing artists who have suffered illnesses or debilitating accidents that prevent them from working, and for Doctors Without Borders/Médecins Sans Frontières

, an international medical group that brings emergency aid to people in disaster zones.
Tickets will range from $12.50 to $100 apiece, with $1,000 family packages including four orchestra seats and a signed book from each of the authors. All proceeds will go to the charities. Simon & Schuster and Scholastic are sponsoring the event.
Jo has not met Mr. King but knows that he is a fan of her books and when asked to attend said:
Stephen pretended to be in suspense about my answer, but frankly, this was easily one of the most enticing propositions ever put to me in an envelope.
Currently Radio City Music Hall has not posted the event on their calendar

so please call the venue to find out more or keep checking their web site. As soon as we find out the exact date of the event we will be sure to let you know.
Earlier in the year a report popped up stating that Jo would be vacationing

on the eastern end of Long Island in NY, so her trip in August may include a few days in the sun. Thanks to Eamon for this tip.