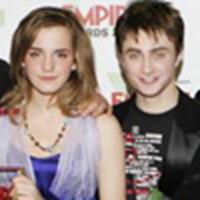 Emma & Dan
Dan & Emma to attend Queen's celebrations?
April 16, 2006 at 12:25 PM ET
Geri HPANA (via News Tip)

jk rowling, jo rowling, jkr, daniel radcliffe, dan radcliffe, emma watson
---
Last month we told you

that Harry Potter author JK Rowling would be one of the guests to help celebrate the Queen's 80th birthday in London on June 25th. It is now being reported

that actors Daniel Radcliffe and Emma Watson will also be in attendance.
While neither Dan nor Emma have been confirmed to attend, we will of course update as soon as we have additional informantion.
The event is schedule to air on the BBC, please check your local listings for times. Thanks to Marianne for the tip.