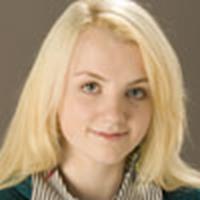 Evanna Lynch
First official photo of Luna Lovegood actress
February 2, 2006 at 5:11 PM ET
Cheeser HPANA (via Warner Bros.)

evanna lynch picture, evanna lynch, luna lovegood, luna lovegood photo, harry potter and the order of the phoenix
---
Warner Bros. has sent us the first official studio photo of 14-year-old actress Evanna Lynch, who will be portraying Luna Lovegood in Harry Potter and the Order of the Phoenix.
Lynch, who hails from Ireland, beat out 15,000 other girls vying for the part. The photo shows her holding a copy of JK Rowling's fifth book. Keep in mind that this is the actress herself, not Luna Lovegood the character. Her entire look, including hair color, could be different in the final production.
UPDATE: Apparently this won't be Evanna's first brush with fame. FictionAlley.org has uncovered

an interesting story about Evanna, published June 26, 2003, around the release of book 5:
A dream came true for a "true" Harry Potter fan, Evanna Lynch (11), when she received a copy of the latest Harry Potter book signed by author JK Rowling, one of just a half dozen in the country.
Dressed in a Harry Potter t-shirt, and "I love Harry Potter" written down her arms, Evanna painted her nails in blue with Harry Potter written on every second nail and the golden snitch on every other one. She drew black Harry Potter glasses on her face, which looked very authentic indeed!
The Termonfeckin girl, who is a pupil at Cartown NS, has read and re-read all of the other Harry Potter books, and has been waiting for the publication of The Order of the Phoenix with bated breath.
Evanna and her older sister Emily had planned to camp outside Eason's to make sure of getting the first copy sold. When she was admitted to hospital recently she was bitterly disappointed at the thoughts of missing the book, but the authorities came to her rescue and allowed her an hour's leave.
Several bits of news concerning the fifth Potter film were announced today. The movie will be released in 2007.