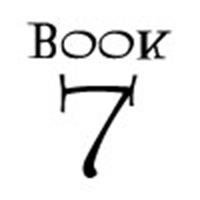 Commentary: Harry Potter Book 7 on July 7, 2007
December 27, 2005 at 2:35 PM ET
Cheeser HPANA

harry potter 7, harry potter book 7, harry potter book 7 release date, 070707, 07/07/07
---
Editor's Note: This was a commentary (opinion piece) published in 2005. The official release date for book 7 has now been announced (and I was only two weeks off!). You can pre-order it now as well.
Harry Potter 7 will be released July 7, 2007.
At least, it should be. While this date has no doubt already crossed the minds of many fans, JK Rowling's recent revelation that "2006 will be the year" she writes the final book lends itself entirely to this theory.
That, and it is the biggest stroke of magical marketing luck so far this century. The book simply can't not be released on 07/07/07. It's too perfect.
It just so happens that July 7, 2007 is a Saturday. It just so happens that every Potter book since Goblet of Fire has been released on a Saturday (presumably to allow kids and their parents to attend those midnight release parties without undue hardship). It just so happens that July 7 falls right in the traditional June-July release window during which the other books were released. (Finally, while less relevant but still interesting, 12:00 a.m. on Saturday will be 7 p.m. Friday in the U.S., where the most Potter books have been sold to date. Fans on the east coast, already lined up to buy their copies, will see book 7 released across the pond at 7 p.m. local time - what a coincidence.)
Rowling has hinted at the significance of the number 7

, most recently in August when her official site's Wizard of the Month was an arithmancer who discovered the number's magical properties. In Half-Blood Prince, it was revealed that Lord Voldemort had made seven horcruxes (himself included). Quidditch teams have seven players each. Gryffindor Tower's entrance is on the seventh floor at Hogwarts. The list goes on and on.
I can see it now: the biggest marketing campaign in the history of publishing, with one very short, very simple, very effective message: Book 7. 07/07/07. Woe betide the marketing departments at Bloomsbury and Scholastic if they don't clinch what's obviously the most perfect storm of circumstance, desire, product and marketing the world may ever know.
Not that the book needs to be released on any specific date, though. As one of the planet's most successful authors, Rowling probably has the luxury of turning in a manuscript no sooner than when she sees fit. Fans will line up when told to. And it's up to her editors and publishers to polish, prepare and print it. One last consideration, from a business standpoint, is to ask if it makes sense to bump up against the next movie's release (and Order of the Phoenix will be in theatres July 13, 2007). Unfortunately, July 7 will also be the two-year anniversary of the London terrorist bombings (thanks to a reader for pointing that out).
No true fan would begrudge Jo for taking her time. But I must wonder if she also feels this coincidental "aligning of the fates" is something special, something magical, something to take advantage of. As a fan, I can only hope she does.
I also hope Jo doesn't find this speculation absurdly presumptuous. I hope she realizes it's our duty to poke and prod and ask and beg and whine and plead. How would that be any different from the last five years?
We certainly wouldn't want to disappoint her.