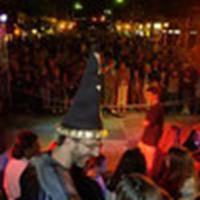 Life-sized chess in 2003
Get 'Spellbound!' by midnight release of book 6 in Chicago
June 6, 2005 at 12:07 AM ET
Cheeser HPANA (via Spellbound!)

harry potter and the half-blood prince, randhurst mall, chicago harry potter party, harry potter release party
---
After months of planning, we're proud to be able to finally release Spellbound2005.com

, information about our huge Harry Potter and the Half-Blood Prince midnight release party in Mount Prospect, Illinois. The mall, two cities, the visitors' bureau, area businesses and even the mayor have helped us bring this thing to life. Read all about it in the official press release:
Harry Potter Fans 'Spellbound' By Release of 'Half-Blood Prince'
Midnight release party at Chicago-area shopping center to draw 10,000 attendees. City officials and area businesses lend support to make memorable event.
MT. PROSPECT, IL -- Award-winning Harry Potter fan sites today announced Spellbound!

, an event to celebrate the release of JK Rowling's sixth novel, Harry Potter and the Half-Blood Prince, on July 15 at Randhurst Shopping Center in Mt. Prospect, IL.
Attendees of Spellbound! will be enchanted by live music performances, a land-based "Quidditch" game developed by USA Team Handball, a virtual reality experience, costume contests, prize giveaways, trivia, scavenger hunts and more.
Wizarding World Press

will present its unique life-sized wizard chess, a game that attracted thousands in 2003. HP Fan Trips

, a group focused on Harry Potter-themed travel, is providing its "Quidditch" and virtual reality games. Musical talents Harry and the Potters, Tony Goldmark, Luke Ski and others will perform live on stage.
Online Harry Potter fan sites MuggleNet

and HPANA along with Wizarding World Press have been developing the event over six months. WWP, publishers of the Ultimate Unofficial Guide to the Mysteries of Harry Potter, was created by fans and actively supports the online fan community. Both HPANA and MuggleNet have been awarded a Fan Site Award from author JK Rowling herself, and the webmaster of MuggleNet was recently invited by the author to conduct an interview at her Edinburgh home on July 16.
Area hotels have provided convention space and large discounts for travelers and will host several of the Spellbound! attractions. Beyond Boundaries Travel

has negotiated rates and is the event's official travel agency. Fans who stay in certain hotels can pre-order the book directly from Spellbound! for delivery shortly after midnight.
"It's a great honor to be the only shopping center in the country associated with the group of organizations that have produced this world-class event," said Margaret Lannen, General Manager for Randhurst.
City officials in Mt. Prospect and Prospect Heights are eagerly anticipating the festival.
"We could not be more excited to host such a wonderful event," said Patricia Wharton, Executive Director of the Prospect Heights Convention and Visitors Bureau. "The economic impact and national notoriety this event will have on our communities is outstanding," said Prospect Heights' City Administrator Matt Zimmerman. "Our city is thrilled to be hosting this event in conjunction with Mount Prospect," added mayor Rodney Pace.
Randhurst Shopping Center, located in Mount Prospect, IL is a 1,021,000 million square foot shopping destination with a variety of national and local retailers offering merchandise, services and entertainment options. The center includes such retailers as Carson Pirie Scott, Home Depot, a 16-screen AMC Theatre, Old Navy, Borders Books and Café, Costco and Jewel-Osco.
Fan sites DanRadcliffe.com

, Veritaserum

, Harry Potter Fan Zone

and others are contributing to the event by operating some of the specific games and contests. Thanks also to The Leaky Cauldron

for their support.
Visit the official site

to register and learn more about the event!