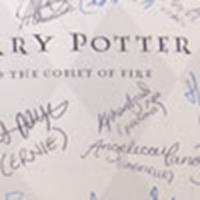 Autographed book
'Goblet of Fire' book signed by 27 cast members
March 16, 2005 at 11:35 PM ET
Cheeser The Leaky Cauldron (via Kamp Kiwanis NY)

harry potter autographs, harry potter raffle, camp kiwanis
---
A copy of Harry Potter and the Goblet of Fire donated by actor Jamie Waylett (Vincent Crabbe) and signed by 27 cast members from the upcoming film adaptation is to be raffled in August by the New York Kiwanis International

.
Tickets will go on sale April 1 and the raffle will occur August 19. Proceeds from the raffle will benet Kamp Kiwanis NY

, a place where children can experience the "camp life" and outdoor activities, including environmental awareness.
The signed Goblet of Fire book features the autographs of: Daniel Radcliffe (Harry Potter), Emma Watson (Hermione Granger), Rupert Grint (Ronald Weasley), Tom Felton (Draco Malfoy), Jamie Waylett (Vincent Crabbe), Devon Murray (Seamus Finnigan), Matthew Lewis (Neville Longbottom), Bonnie Wright (Ginny Weasley), Alfie Enoch (Dean Thomas), Clemence Poésy (Fleur Delacour), Stan Ianevski (Viktor Krum), Robert Pattinson (Cedric Diggory), Katie Leung (Cho Chang), Michael Gambon (Albus Dumbledore), Pedja Bjelac (Igor Karkaroff), Warwick Davis (Filius Flitwick), James and Oliver Phelps (Fred and George Weasley), Afshan Azad (Padma Patil), Angelica Mandy (Gabrielle Delacour), Charlotte Skeoch (Hannah Abbott), Tiana Benjamin (Angelina Johnson), Henry LLoyd-Hughes (Roger Davies), Tolga Saffer (Karkaroff's Aide), William Melling (Nigel, a first-year) and Louie Doyle (Ernie).
Other prizes include a "Slytherin Crew" picture signed by Jamie Waylett (Vincent Crabbe) and a DVD set of the three Harry Potter films to date.