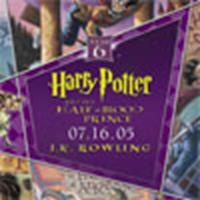 Half-Blood Prince poster
Scholastic poster advertises 'Half-Blood Prince'
February 21, 2005 at 10:47 AM ET
Cheeser DarkMark (via Scholastic)

harry potter and the half-blood prince, scholastic, book 6 poster
---
A new poster from Scholastic has been released featuring a patchwork of previous Harry Potter covers to promote the upcoming July 16 release of the sixth book from JK Rowling, Harry Potter and the Half-Blood Prince.
Download the image above or get a printable PDF version

.
UPDATE: A new poll

has also been added at Scholastic's site. Thanks to MuggleNet

.