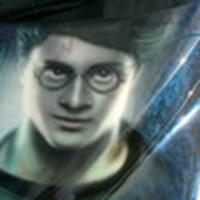 Potter painted PT Cruiser
Cruise away in a Potter painted car
January 12, 2005 at 12:01 PM ET
Geri MuggleNet

---
Want to buy the ultimate Harry Potter gift for a fan? Well now you have a chance to bid via eBay UK for a PT Cruiser custom painted by reknown painted by Darren Horton featuring Harry, Hermione, Dobby and Prof. Snape from Harry Potter and the Prisoner of Azkaban.
According to eBay:

:
Custom painted and airbrushed by World renowned airbrush and custom painter Darren Horton. The car has undergone a complete custom paint job, all over including door shuts all inside door panels and boot panels, airbrushing took 10 weeks to complete alone, with bluse house of kolor marblizer finish with 8 coats of clearcoat, artwork has been praised by Warner Bros.
The starting bid is £10,000 (US $18,788), but no bids have been placed yet with the auction set to end today.