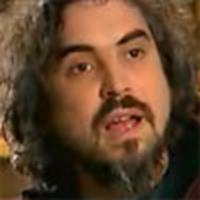 Alfonso Cuarón
'Prisoner of Azkaban' DVD trailer
August 12, 2004 at 9:38 AM ET
Cheeser HPANA (via Harry's Scrapbook)

harry potter and the prisoner of azkaban dvd trailer
---
Warner Bros. has released a trailer

for the November 23 release of Harry Potter and the Prisoner of Azkaban on DVD. The preview includes sneak peeks at the 2-disc set's special features, which were previously announced.
Right-click to download and save to your computer:
Quicktime 100Kbps


Quicktime 300/500Kbps

Real 56Kbps


Real 100Kbps


Real 300/500Kbps

Windows Media 56Kbps


Windows Media 100Kbps


Windows Media 300/500Kbps

J.K. Rowling and director Alfonso Cuarón are interviewed on the DVD. In a "revealing interview", Rowling says of Cuarón: "He's put things in the film that will foreshadow things that are going to happen in the final two books."
Thanks to Alan from Harry's Scrapbook

for the tip.
Also, from MuggleNet: DVD Answers has large imagery of the new cover art

, as well as the new 6-disc combo pack of the first three movies.
Finally, check out this cute promo

from Warner Home Video.