'Prisoner of Azkaban' 2-disc DVD coming in November
July 26, 2004 at 6:56 PM ET
Geri HPANA (via Warner Bros.)

harry potter and the prisoner of azkaban dvd
---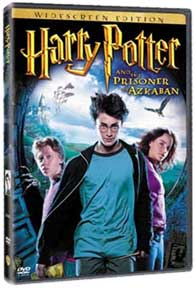 Warner Bros. has officially announced

details for the Harry Potter and the Prisoner of Azkaban DVD, to be released November 23 in the U.S.
Previously, DVD Answers

and fan site The Leaky Cauldron

had obtained some details and cover art, but the official statement includes a list of all features on the 2-disc set:
A selection of mystifying exclusive never-before-seen footage.
Creating the Vision: a revealing interview with J.K. Rowling and the filmmakers.
Three great interactive challenges: Test your memory with Magic You May Have Missed, help Crookshanks Catch Scabbers, and go on an unexpected quest with Sir Cadogan.
Self-guided iPIX tours into Honeydukes and Professor Lupin's Defense Against the Dark Arts classroom.
Raucous interviews with the cast lead by Johnny Vaughan and the Shrunken Head.
Meet the animal trainers from the movie in Care of Magical Creatures.
Choir Practice sing-along with the Hogwarts choir.
Hogwarts Portrait Gallery: get a closer look at the various portraits lining the walls of Hogwarts castle.
Conjuring a Scene: an in-depth look at the making of key scenes from the film.
Theatrical trailers of all three Harry Potter films.
Electronic Arts game preview.
The disc will be available to buy on November 23 at a retail price of $22.95 (you can expect steep discounts at both online and offline stores).