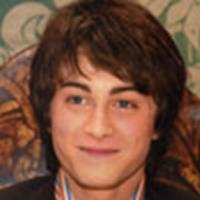 Daniel Radcliffe
Harry Potter star says 'Thank You' to fans for birthday gifts
July 30, 2004 at 7:19 AM ET
Geri HPANA (via DanRadcliffe.co.uk/DanRadcliffe.com)

dan radcliffe, daniel radcliffe birthday, harry potter's birthday, dan radcliffe's birthday
---
Previously we reported that fan sites DanRadcliffe.com

and DanRadcliffe.co.uk

celebrated the young Harry Potter star's birthday by sending him some unique gifts.
Now both sites have received personal "thank you" letters from Daniel in which he expresses his astonishment and gratitude for the wonderful surprise presents.
Radcliffe had wonderful words

for Page from DanRadcliffe.co.uk for the punk rock collection they sent him:
Thank you! Thank you! Thank you! I am completely overwhelmed by this extraordinary gift from you and the fans at Danradcliffe.co.uk. When I opened the box I couldn't believe my eyes. I am still sorting through the CD's and gifts but had to write and say you have all been so generous and kind to think of this fabulous present for my 15th birthday. My bedroom shelves will now groan even more under the weight of these CD's but every time I play one I will think of your kindness which leaves me speechless!
And Daniel was left speechless

yet again by Jenna's amazing gift of ACED magazine

from DanRadcliffe.com:
Well, you've done it again - left me speechless with ACED. It is a fantastic magazine and I was completely knocked out by it and the time and effort you have put into it. I love all the reviews and the photos are excellent. By happy coincidence I had just bought the Modest Mouse album which I think is fantastic! I was also stunned to see the fan demographic and as always find it a little difficult to take in the spread of fans around the world when I am working at Leavesden. ACED is a beautifully constructed and imaginative magazine and everyone I have shown it to loves it. It made my 15th birthday very special and I can't wait for the next issue at Christmas. Thank you.
He also thanked both sites for the nearly $3,000 they raised in his name for Demelza House

.