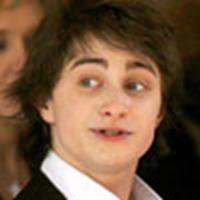 Dan Radcliffe
Daniel Radcliffe fans celebrate Harry Potter actor's birthday
July 23, 2004 at 2:45 PM ET
Cheeser DanRadcliffe.com

dan radcliffe, daniel radcliffe birthday, harry potter's birthday, dan radcliffe's birthday
---
The young teen who plays Harry Potter -- known to most fans as Daniel Radcliffe -- turned 15 today.
Fan sites DanRadcliffe.com

and DanRadcliffe.co.uk

celebrated by raising

over £1,600 (almost US$3,000) for Dan's favorite charity

and separately put together some fantastic surprises for the birthday boy:
DanRadcliffe.co.uk's "A Punk Rock World"

- Fans sent in over 40 pounds of punk and rock music memorabilia, including CDs, DVDs, concert posters and t-shirts. (Radcliffe is a big fan of the genres.)
DanRadcliffe.com's "Aced Magazine"

- Webmistress Jenna has been hard at work since December creating a new, semi-annual magazine (not an e-zine, or a newsletter but an actual printed publication) for teens and young adults. The focus is on music, lifestyles and trends that both girls and guys can read together and relate to. (P.S. The online version of the magazine features Emerson and Jamie

from MuggleNet.)
The character Harry Potter will turn a year older with author J.K. Rowling on their shared birthday later this month (July 31).