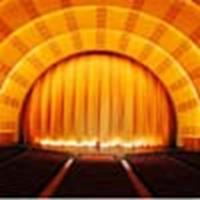 Radio City Music Hall
Confirmed time for 'Azkaban' premiere in New York
May 4, 2004 at 9:19 PM ET
Geri HPANA (via Rowm.com)

---
As previously reported

the US premiere of Harry Potter and the Prisoner of Azkaban will be taking place on Sunday, May 23 at Radio City Music Hall

in New York City and now we have a confirmed time of the premiere.
According to rowm.com

:
Row M has confirmed today with Warner Brothers that despite reports elsewhere on the web suggesting differently, the time for the NYC World Premiere for Harry Potter and the Prisoner of Azkaban is indeed 4 pm. As Row M reported earlier, and is widely known, the event will take place at Radio City Music Hall on Sunday, May 23, 2004.
Thanks to CorrentePotter for the tip