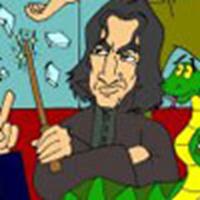 Snape
'Sirius'-ly funny 'Potter' parody makes online rounds
April 20, 2004 at 9:49 AM ET
Cheeser HPANA

sirius black song, sirius black parody, tony goldmark, dr. demento, harry potter parodies, harry potter jokes
---
You may have already downloaded the song, but 20-year-old Tony Goldmark

, whose parody Sirius Black has been #1 on the national Dr. Demento radio show

, talks to HPANA about how he made it and what he intends to do with his "special" skills after graduating from school. We also talk with Dr. Demento himself about Tony. Check it out in our exclusive interviews below.
As a special treat, Tony has given us permission to share a 1-minute excerpt of Sirius Black - download here

, and read along with the lyrics

.
HPANA: When and how did you first start getting involved with song parodies?
Tony: I grew up in San Francisco, the only child of two aging baby boomer musicians who, between them, have been in about sixteen trillion bar bands of varying quality, so they've always encouraged me to write songs. When I was twelve, in fact, my mother hit a midlife crisis and started her own independent record label, and one of the first projects she recorded was a comedy/children's album by me, so a few of my stupid songs at the time ended up there (incidentally, that album is not recommendable to anyone - my new stuff's much better).
As for parodies, specifically? I've always written a few, but only when I find a really, really good parody idea, i.e. Sirius Black - otherwise I prefer original funny songs, because they're much more manageable, and more likely to be funny quite honestly - I love Weird Al of course, and my good friend the great Luke Ski

makes a lot of brilliant parodies, but for every genuinely hilarious parody that's ever been made, there are about six crappy, disposably topical tunes created and played by morning DJs involving fart noises - you know the ones I mean. Nobody wants that. Nobody.
HPANA: How long does it generally take to produce a finished parody (writing lyrics, recording, post-production)? What type of equipment and software do you use?
Tony: It varies from song to song, but in the case of Sirius Black, I started writing the lyrics right after reading the book, about a year ago. I wrote the first verse in about a day, then for some reason I hit a roadblock - about nine months went by and either I never had the time, or I couldn't think of any more lyrics. Then I reread book three and wrote the rest of it in two days, the whole time listening intently to the original Sir Mix-A-Lot song and adapting the lyrics to the J.K. Rowling universe. Usually I record my songs back home in San Francisco with my parents' musically talented friends as my backup bands, but I knew I couldn't do that this time - my parents' musically talented friends are pushing fifty, and, God bless them, they could not produce a decent rap background track to save their lives. So instead, on the advice of Luke Ski, I recorded it at the home of DJ Skrabble, a Madison, WI-based DJ who has produced many of Luke's rap tracks - you could say he's becoming the Pharrell of dementia. After I told him the basic idea, it took him a week or two to produce the background music, and then we recorded all the vocals and mixed it in one day, using ProTools. The sound bytes were of course gleaned from the Prisoner of Azkaban teaser trailer that played before Return of the King.
HPANA: You must be a Harry Potter fan, or else just read Prisoner of Azkaban very carefully to come up with such on-target "inside jokes"?
Tony: I am indeed a HUGE Harry Potter fan. It always bugs me a little bit when someone does a song about a pop culture event without really researching it intently, though I myself am guilty of said crime. In 2001, before I had read any of the books, the first movie came out, and of course it was a blockbuster of Phantom Menace proportions, and one day the idea came to my head of doing a parody of The Cover of the Rolling Stone called The Sorcerer's Stone. I had the idea before I knew even the slightest bit about it, and I wrote and recorded the song after merely seeing the movie, which in hindsight was a mistake. Then a while back, I realized that my next album would be coming out in 2004, right around the time of the release of the Prisoner of Azkaban film, and it would tie in well to do a song about it... but of course I would have to read the book first. My original idea was a parody of Folsum Prison Blues called Azkaban Prison Blues - again, superficially basing a parody idea on the title. So I read the book, and before it even begins he breaks out, so nerts to that. But then I think of the guy's name, and I think of a classic old school rap about posteriors, and voila! Anyway, after reading book three essentially for business reasons, I was hooked. I have now read and reread all five books multiple times.
HPANA: What's it like being on the Dr. Demento show? When was your first exposure there?
Tony: Being on the Dr. Demento show is rather like being held upside-down naked while purple dwarves dip you into a warm honey mustard concoction of - no, wait, that's something else. It's an honor, of course, because he doesn't play just anything, even though he can. Which is what makes the show great - it's the only national commercial radio show where the decision of what to play comes down to one man, once you get past all the pesky FCC rules of course. And it gives people the feeling of accomplishment that only radio play can bring. I'm especially proud of Sirius Black hitting #1 on the Funny Five two weeks in a row as of this writing, which gives it even more relevance in the future history of the show. My first exposure there was in 1997, with a song from my ill-fated children's album I mentioned earier. I have met and spoken with the Doctor on many occasions, and in fact I even came to his house for an interview that aired on his show a few months ago.
HPANA: Do you plan to continue doing parodies for as long as you can? After school? You're majoring in television - what do you want to do with that education?
Tony: I plan on writing comedy my entire life, and hopefully getting paid for it - after I graduate I hope to move to LA and get some writing gigs in television, like on sketch shows and the like. I definitely will make the continued effort to make music a part of the equation.
We asked Dr. Demento about Tony and he said he'd never heard of him. (Just kidding, here's what happened:)
Dr. Demento: I've now seen him in person four times over the past three years -- two live performances, an interview at my studio, and one other time when he and his mom came to a signing for a book I wrote.
He's really grown up in the past year... very much in command, brimming with confidence, still as brash as ever but now much more in control. His music and comedy of course has also gotten much better. It was a bit hit-or-miss earlier, but now he's right on most of the time, and his singing has improved a lot. I'm really impressed.
HPANA: Why do you think your listeners enjoy his material so much?
Dr. Demento: It's funny, it's about things they're interested in, it's hip and original and bold but clean. Just like Weird Al.
HPANA: Now, you introduced the world to Weird Al (when he was just 16), who went on to become probably the most well-known parody artist in the world. What's Tony's potential?
Dr. Demento: Based on how Tony's work has improved in the past three years, I think he's likely to have a long and brilliant career in the comedy music field... that is, unless he decides to put all his energies into something else, like movies or TV.
HPANA: Do you feel a sense of pride in being able to share the talents of young artists with a large audience?
Dr. Demento: Absolutely. It's the main thing that keeps me excited about the show.
Thanks to both Tony Goldmark and Dr. Demento for taking the time to talk with us. You can purchase Tony's album with the Sirius Black parody on Amazon

. It's well worth it.
Note: We realize the full song has been posted online and Tony is also aware. We have exclusive permission to bring you the 1-minute preview. All other copies online are illegal.