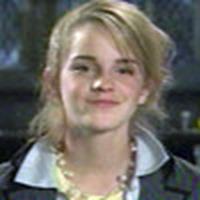 Emma Watson
Video promo for ABC's upcoming 'Sorcerer's Stone' premiere
April 13, 2004 at 2:22 AM ET
Cheeser DanRadcliffe.com

harry potter and the sorcerer's stone, harry potter movie, dan radcliffe, emma watson, rupert grint, harry potter on abc
---
U.S. television network ABC aired commercials Monday night that featured Dan Radcliffe (Harry Potter), Emma Watson (Hermione Granger) and Rupert Grint (Ron Weasley) talking about their upcoming "hosting" responsibilities for the premiere of Harry Potter and the Sorcerer's Stone on the network, and DanRadcliffe.com

snagged the video!
Approx. 45 seconds long:
Windows Media format (~1.6MB)
Quicktime format (~2.8MB)

Screencaps

courtesy DanRadcliffe.com
The trio will be interviewed during interstitials in the program, with a 10-minute preview of the third installment, Harry Potter and the Prisoner of Azkaban, at the end.
Thanks to Lianne, Amy, Celeste and Jenna for the tips.