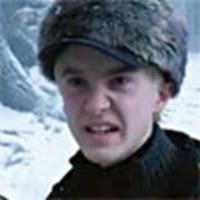 Draco Malfoy
New HP3 trailer, web site online!
March 24, 2004 at 9:53 PM ET
Cheeser HPANA

harry potter pictures, harry potter trailer, harry potter and the prisoner of azkaban trailer, poa trailer, prisoner of azkaban, prisoner of azkaban trailer 2, harry potter 3, harry potter 3 movie
---
The highly anticipated new trailer for Prisoner of Azkaban and a brand-new look for the official Harry Potter site

have gone live! As previously reported, the trailer clocks in at just over 1 minute 54 seconds and includes tons of new scenery. On the new site, you can use the Marauder's Map to play games, download some beautiful wallpapers, screensavers, AIM buddy icons and more.
Screen captures:
Downloadable versions of the trailer:
Gorgeous high-quality wallpapers:
E-Cards:
Some 100x100 LiveJournal-sized images for your enjoyment
(created by HPANA from the trailer):
And finally...