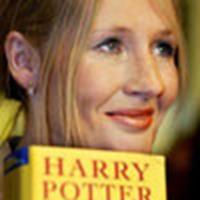 JK Rowling
Rowling to 'revise all seven' Potter books when finished
March 4, 2004 at 7:24 AM ET
Geri The Leaky Cauldron

world book day 2004,j.k. rowling, jk rowling, harry potter author,harry potter book 6,harry potter book 7
---
Thanks to The Leaky Cauldron

for getting a transcript of the chat that Rowling had this morning for World Book Day. Rowling was bombarded in the live Web chat with 16,000 questions from avid readers of the Harry Potter series. Rowling also said when she finishes the saga with book seven, she will settle down and revise them all.
Here is a sampling of questions asked and you can read the transcipt here

.
eastbrook4: Why did Harry have to split up with Cho Chang?
JK Rowling replies: That's life, I'm afraid. They were never going to be happy, it was better that it ended early!
dsm: Are Harry's powers going to get even greater?
JK Rowling replies: Yes, he's really progressing as a wizard now (which is lucky, because I know what's in store for him).
bubbles: If you were harry potter for a day what would you do?
JK Rowling replies: If I, personally, were Harry Potter I think I would go and hide somewhere, but that's because I know what's coming!
Echo: Was Percy acting entirely of his own accord in Order of the Phoenix?
JK Rowling replies: I'm afraid so.
Kylie: Thanks for writing such wonderful books, Ms Rowling :). Just one question: What are Ron, Hermione and Ginny's middle names? Thank you :)
JK Rowling replies: My pleasure:) Middle names: Ginny is Molly, of course, Hermione 'Jane' and Ron, poor boy, is Bilius.
Coolbeans3131: Would you like to see the same actors portray the trio in all 7 movies?
JK Rowling replies: Yes, I would. I really like all three of them.
SiriuslyLovinSirius: If we ever see Sirius again, what form will he be in?
JK Rowling replies: I couldn't possibly answer that for fear of incriminating myself.
Read the rest of the transcript at TLC. Also, CBBC Newsround's Lizo Mzimba followed up with Rowling

after the webchat.