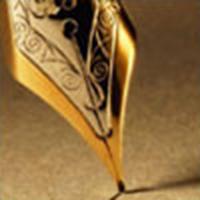 Book 6 'flowing like a mountain stream'
February 2, 2004 at 8:11 PM ET
Cheeser The Leaky Cauldron (via The Letter Box)

---
Harry Potter author JK Rowling has responded to the box of letters

sent by Ali Wilgus on behalf of hundreds of mostly older fans, in a project she organized

last spring called The Letter Box

.
Rowling's sincere thanks

come months after receiving the package, which she says is mostly the fault of paying more attention to her newborn son David:
What can I say? Rarely do I receive such letters, and never before in one beautifully packaged collection...
I apologize most sincerely for the long wait for a response. You congratulated me on his birth - and no, he's not a Squib - but David is indeed the main reason that I am horrendously behind on my correspondence. Well - David and book 6 which (before the press start up again with the writer's block stories) is flowing like a mountain stream.
Get it?
Update: View a scan of the original handwritten letter

.