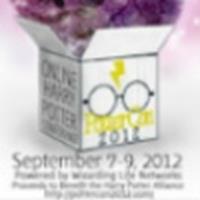 PotterCon 2012
PotterCon 2012 registration available; win trip to 'WWoHP'
June 26, 2011 at 8:43 PM ET
Jeremy HPANA (via PotterCon 2012)

PotterCon 2012, Harry Potter, HPANA, Convention, Wizarding Life,
---
Have you ever thought of attending one of the many Harry Potter conventions, but because of locations, expenses, or time restraints you just couldn't make it? Well, here is the opportunity for you to participate in a once-in-a-lifetime event.
Introducing PotterCon 2012

, an entirely online, Livestream-based Harry Potter convention -- your ticket to experience nearly everything that traditional Harry Potter conventions offer, and you won't even need to leave your own home. The weekend will be full of courses, both academic and in-character, live wizard wrock shows and live screenings of fandom productions such as The Final Battle, The Warlock's Hairy Heart and others. Even if fans aren't able to make the conference live, the programming is being recorded and will be made available for attendees for three weeks following the conference.
With over 130+ hours of live programming spread over one weekend, attendees from around the world will join together and collaborate over their views on the Harry Potter series, as well as partake in Hogwarts classes. Live programming will be held at times convenient to all time zones around the world to benefit an international audience and will truly show how fans can connect together from all areas of the world with one incredible experience.
The conference is English-speaking and will take place September 7-9, 2012. It is hosted by WizardingLife.com

, an online, fan-made American spinoff of the Daily Prophet.
To celebrate this announcement, PotterCon 2012 is offering the chance for any US attendee who signs up to win a trip for two to the Wizarding World of Harry Potter in Orlando, Florida, complete with airfare, park admission and onsite hotel accommodations. Only the first 2,000 registered attendees are eligible for the drawing.
Registration is now open

, and the cost of the conference is only $20, but you can save $5 by using our coupon code: HPANA. Proceeds from the event are benefiting the Harry Potter Alliance, a non-profit organization complimented by JK Rowling, which has built a library in New York, placed books in the hands of thousands of needy readers and sent five cargo planes of medical supplies to Haiti, among other noteworthy accomplishments.