Triwizard Cup
HPANA's first look at NYC's 'Harry Potter: The Exhibition'
April 4, 2011 at 6:19 PM ET
Cheeser HPANA

harry potter exhibition new york city, discovery times square
---
HPANA was the lucky recipient of an invitation to experience Harry Potter: The Exhibition during its preview in New York City this weekend. Our very own Geri reports...
While waiting on line fans of the movies and books where voicing their guesses as to what they would see, getting their picture taken against a green screen and looking at the posters that line the wall.
After waiting in line for 15 minutes my small party of 8 were guided into a room in which a person dressed in a long robe welcomed us and asked for volunteers to be sorted. Of course two people were sorted to Gryffindor and the last to Hufflepuff, much to the glee of my fellow tour members.
The next room was a bit deceiving when we entered. The only door, the one from which we entered, closed with an unseeing hand and we were greeted with eight big-screen televisions bombarding us (in a good way) with scenes from the movies. After about 10 minutes a wall lifted up and we are met with the front of the Hogwarts Express billowing out smoke, and another witch with a lantern telling us to hurry on our way.
Walking down a corridor with moving pictures and posters on the wall, we entered the first true part of the exhibit, a view of the Gryffindor common room and the beds of Harry and Ron. I have to say that I never realized the beds were so short on film, but seeing them in person for the first time I wondered if a young child could ever have slept comfortably on them.
Every corner of the exhibit showcases exquisite costumes, books and everything and anything else related to the movies. You get to see every costume and frankly I admired the work that went into everything. It seems that nothing was taken for granted or skimped on when trying to bring JK Rowling's world to the big screen.
Both floors of the exhibit jump to life. You get to view the Deatheater's robes, Neville's shoes, Quidditch outfits, Prof. Lockart's cornish pixies, Hagrid's Hut (what a giant figure), even pull a mandrake from the garden and so much more.
Each movie is represented in the exhibit and can take you over an hour to walk through because you keep going back to look over something that you might have missed.
The exhibit is broken down to the following settings: Sorting Hat, pre-show with 8 television screens, Gryffindor common room, classrooms, Quidditch, Hagrid's Hut, the forbidden forest, deatheaters and finally the Great Hall.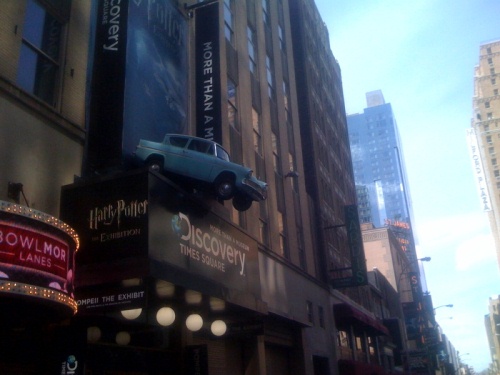 I could tell you more but I really don't want to spoil it for those who are going to visit. As you exit the exhibit you have a chance to go through the store to pick up any memento from the movies such as DVDs, soundtracks, robes, posters, wands and even a chess set (for $499.00).
All in all it is a wonderful exhibit for fans to see and for the price it's not to be missed while in New York City. The only issue I had was with the fake English accents of the actors -- they need work. If you can disregard that, you'll have a wonderful time!
The exhibition officially opens on Tuesday, April 5 and runs through Monday, September 5, 2011.
Tickets available at DiscoveryTS.com

($25 for adults; $22.50 for seniors 65 and over and $19.50 for children 4-12; children under 4 years of age are free).