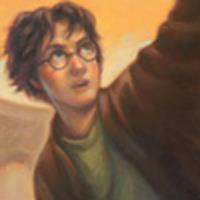 'Harry Potter'
'Harry Potter' e-book release may become reality
April 4, 2011 at 5:53 PM ET
Jeremy HPANA (via The Scotsman)

Harry Potter, J.K. Rowling, E-Book, Ipad, Kindle, electronic,
---
The Harry Potter series as e-books has taken a new step towards becoming a reality today, with The Scotsman reporting that

J.K. Rowling is "actively considering" releasing the books in the digital format.
Ms Rowling's agent has confirmed that the author, who had ruled out making the books available electronically for years, was now actively considering plans for e-book versions.
Liz Thomson, editor of book industry website BookBrunch, said: "I wouldn't be surprised if the rights for the e-books are sold for £100m.
"Experts believe that move could revolutionise the world of electronic publishing, triggering rocket sales of e-book readers such as Kindle and the iPad."
While no official plans have been made regarding Harry Potter e-books, this shows a significant step in that direction, as Rowling has been reluctant in the past to release the beloved book series on the electronic platform.
If and when deliberation turns into action, we will have the announcement and information regarding a Harry Potter e-book release right here.