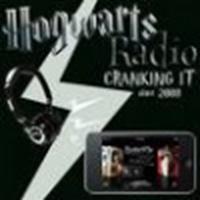 Hogwarts Radio
Hogwarts Radio #70: The One With Monsters, Vampires, and Disappearing Acts
October 29, 2010 at 12:02 AM ET
Jeremy HPANA (via Hogwarts Radio)

Hogwarts Radio, HPANA, podcast, Harry Potter,
---
We present for you our special Halloween edition of Hogwarts Radio, in which we discuss some of the classic Halloween-type novels, and their relation to Harry Potter. Join us for this great discussion, and much more.
Hosts: Terrance Pinkston, Jr., Greyson Smith, Jeremy Baril, Becca Schroeder, Mary Terzian.
- Halloween is almost here, so here's a special episode of our Harry Potter podcast!
- Greyson rejoins us after a long journey, and he provides updates.
- Hobbits take over Hogwarts? We discuss a potential move to Leavesden Studios as The Hobbit is 'green-lit.'
- What will this mean for the Harry Potter experience opening?
- Deathly Hallows Part 1 has a runtime, making it the third shortest film of the franchise.
- How do we feel about this, and how will this affect the pacing of certain scenes?
- Terrance talks with Daniel Radcliffe and asks a burning question!
- T-Shirt sales have ended. When can you expect yours?
- Halloween themed discussion: Frankenstein, Dracula, and The Strange Case of Dr. Jekyll and Mr. Hyde.
- How do all these relate back to the series?
- Voldemort's similarity to Frankenstein's monster – inhuman.
- How does the blood connection in Dracula compare to the connection Harry & Voldemort had?
- Similarities in the Dr. Jekyll & Mr. Hyde story to the double life that Snape leads.
- The Common Room segment makes a return as we sit by the fire to talk about our experiences with Halloween, and the Wrong Answer game follows.
- The hosts may not make it out of this episode… ALIVE!
Podcast: Play in new window | Download (Duration: 1:42:55 — 47.4MB)
Hogwarts Radio #71 is scheduled to be released November 4th.